FSU History Alumna Spotlight: Dena Reddick (MA 2020)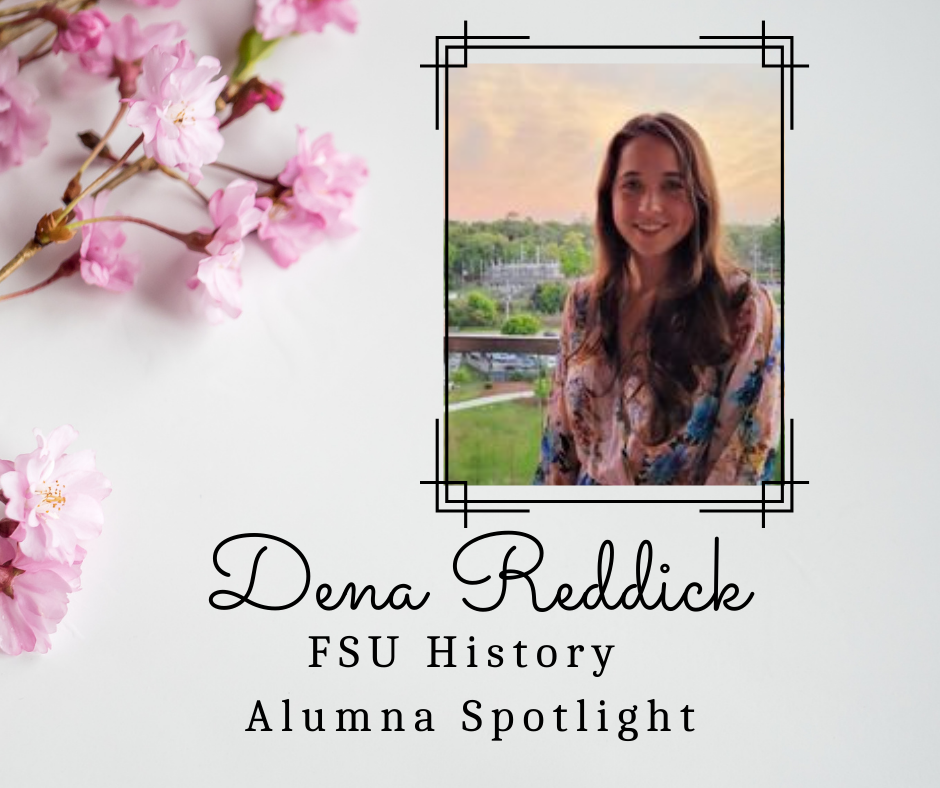 FSU History alumna Dena Reddick, nee Sutphin, currently works in the Department of Elder Affairs for the Serving Health Insurance Needs of Elders (SHINE) team. Dena graduated from Florida State University in 2020 with an MA in History; Dena's research centered on the histories of the Middle East, and Asia, with a focus on gender.
In her current position at the Department of Elder Affairs, Dena helps to facilitate a collection of state-wide support systems for people needing help with Medicare, Medicaid, and aging and insurance needs in general. In this interview, Dena shares with us how the skills she acquired in graduate school helped her achieve her goals outside of academia.
Dena found the listing for the job at the Department of Elder Affairs through the website jobs.myflorida.com, which lists all state jobs. After submitting her resume through the site, she had a first interview, during which she was asked to demonstrate the skills she listed on her resume. In the follow-up interview, Dena gave a sample presentation to demonstrate her communication and teaching skills.
In Dena's opinion, every graduate student already has the "soft skills" required for any job that they desire. She is referring specifically to the ability to communicate, to do research, to think critically, and to solve problems. The biggest obstacle is to translate these skills into something tangible on the resume or CV.
For example, take the ability to communicate persuasively — a skill graduate students have honed throughout their program of study because they must explain and defend their arguments and research. This skill is vital in the workplace when explaining ideas and projects to coworkers and clients – and also when advocating for oneself. The tricky part is how to put that skill onto a resume.
"It's not good enough to say, 'excellent communicator' or 'strong research background,'" Dena explains, "because while you know what you mean…the employer doesn't really get it. You have to be able to translate your skills into something meaningful for a completely different environment." What helps, then, is showing how you have used your communication skills throughout your time as a graduate student, to demonstrate how such a skill can be applicable to a wider range of jobs.
Dena wanted to work in a position through which she could make a real difference in peoples' lives. As health insurance is a difficult and expensive process in America, those eligible for Medicare and Medicaid need help with finding and following the right plan. "When it comes to Medicare, there's actually a lot of penalties for not signing up on time," explained Dena. These penalties can have an adverse impact on elderly individuals, most likely on a fixed income. "An extra $150 a month could be the difference between you eating or not, or you affording medication or not."
The goal of the SHINE program is to help make sure Floridians have 100% free and unbiased care counseling. Dena's job as a SHINE trainer is to stay on top of the ever-changing rules and regulations of Medicare, and then to ensure that all the training aids convey the most recent and relevant information. Dena, thus, has to assimilate a lot of new information quickly. This, too, came straight out of the grad student playbook: reading a mass of information quickly while retaining the major points and organizing them into a logical sequence.
Dena's favorite part of the job is leading the training sessions for the volunteers. It's "fun to meet new people who want to help others." She leads two types of training sessions, one for brand new volunteers, and another for counselors who already have some training and experience but want to deepen their understanding of the material. Though the space she teaches in now "may not be a university classroom, ultimately it is a classroom where I have to teach people effectively," and that skill "came directly from the classroom [at FSU] and learning how to get students to learn."
The biggest challenge that Dena had to overcome was "imposter syndrome," a challenge many students know all too well. Dena explains that "I had never had a full-time job before," and she was nervous about "entering the professional world and not having any idea what's going on, as well as having to prove to myself and those who hired me that I knew what I was doing." As Dena realized that her grad school training gave her an excellent foundation for her new job, she gained confidence in herself and in her ability to succeed at her job.
Dena's advice to others interested in pursuing a career working for the State or Government is that "you have all the skills you need to succeed in many careers…you need to show how your skills immediately translate to the job requirements. You have to be your biggest advocate."
Dena's second piece of advice is to keep applying for jobs you might not seem qualified for, and to "believe that you have all the experience you need to succeed."