En Garde!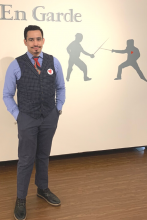 Alberto Perez-Rueda, a Master's student in Public History,  created and designed this exhibition of swords and fencing that just opened at the FSU Museum of Fine Arts.  The exhibit covers a timeline from 1645-2015, and shows swords as weapons of war and dueling, objects of power, and equipment for sport.  Alberto also explored the gendered nature of sword fighting over the centuries.  The items in the exhibit come from his own personal collection as well as other repositories within Florida State University, including Special Collections and the Institute on World War II and the Human Experience.
Ever since he was a child, Alberto Perez-Rueda has been fascinated by swords and fencing.  When asked how his interest was sparked, he remembered "I used to watch a lot of Zorro on TV."  He is a member of the FSU Fencing Club, and even wears his mustache in the manner of Alfred Hutton (1839-1910), one of the great fencing masters of the past.
The idea for the exhibit came to Alberto from an assignment in his Museum Objects class in Spring 2019.  Between the creation and design, bringing all the objects together, securing the space, and installing the exhibit, the project took approximately eight months to bring to fruition. The exhibit will run until March 28, 2020.