Corsica, Disconnected Histories, and Global Narratives: FSU History Alumnus Dr. Joshua Meeks talked to Marina Ortiz
---
Corsica, Disconnected Histories, and Global Narratives: FSU History Alumnus Dr. Joshua Meeks talked to Marina Ortiz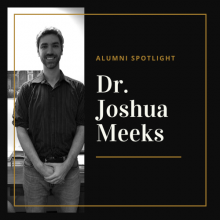 Congratulations to Dr. Joshua Meeks (PhD, 2015) who just accepted a new position. Joshua will be moving from Northwest University in Kirkland, Washington, where he has been teaching since 2016, to the Naval War College in Newport, Rhode Island. He will be an assistant professor in the Strategy and Policy Department, a part of the College of Distance Education. Joshua and his family will be moving back east over the summer.
Back in February, Dr. Joshua Meeks talked to Marina Ortiz about his love for history. In an interview during his visit to Tallahassee, he explained what got him hooked on history, and what his life as a historian is like. Joshua Meeks attributes his interest in history and the French Revolution in large part to his love of A Tale of Two Cities. Alongside Charles Dickens, Meeks says his advisor Rafe Blaufarb inspired his enthusiasm for the Revolutionary era. These factors led Meeks to become a student in the Institute on Napoleon and the French Revolution (INFR). He graduated with his BA, MA, and PhD from FSU. In late February, Meeks returned to Tallahassee to attend the Consortium on the Revolutionary Era, a conference centered around revolutionary history. As Meeks visited with the campus and the department, he spent so much of his life attending, he reminisced about his time as a student and offered advice for junior historians.
            Meeks said it felt good to be back at FSU. "It still feels very comfortable coming back to FSU and that's probably in no small part because I spent a lot of time here," he reflected. He expected campus to look and feel different after a few years of being away, but there was more that was familiar than that which had changed. Despite an upgraded seminar room and plenty of unfamiliar faces, Meeks says there's still a part of him that considers Bellamy and FSU home. His years spent at FSU lent themselves to a wealth of memories and experiences that Meeks looks back upon fondly. Beer seminars were a highlight of his graduate school experience. They were events where fellow students and professors discussed works like Foucault in a more casual setting than a traditional seminar classroom. "It was community building," he said of the seminars, and the get-togethers allowed students to discuss reading in a fun, low-pressure environment.
            His time as an FSU history student, and his career as an Assistant Professor at Northwest University, has given him the experience to give current history students helpful guidance and advice. For those students who intend to go to graduate school and become a professor, Meeks suggested keeping an eye on the H-Net job guides. Not only is it a useful tool for scoping out potential jobs, he recommended using job postings to help students make choices about their minor fields. Keeping an eye on the requirements is also imperative so that graduates can approach the job market well-informed and prepared. He cited the demanding nature of service and committee work in most teaching positions and encouraged FSU history students to get involved with HGSA to gain experience.
            Meeks' biggest piece of advice for graduate students is to remain practical and to take care of themselves. "Don't ruin your life for a dream" is a mantra he offers to his current students. Graduate school can be a rewarding experience, and most who go through the process in a history program hope to find work as a professor. As a professor himself, Meeks thinks it is an amazing dream to have. The reality, however, is a difficult job market without guarantees. Sometimes, he noted, the discipline doesn't reward the great amount of effort scholars put in. "There are other really great lives to live." Above all, Meeks stressed the need to take care of oneself and be cognizant of how one is doing physically, mentally, and emotionally. "Do a service for yourself," he encouraged.
            During his time at Northwest University, Meeks worked on several projects. One current endeavor is a book on the global history of the Napoleonic era which is currently under contract with Rowman & Littlefield. It is geared towards general audiences rather than specialists. The book focuses on transnational connections, and by decentering the European experience of the Napoleonic era, Meeks argues there is much to be gained. "There's a lot of agency I think that you can get from the non-European actors that were still impacted by the destabilization of the Napoleonic era. Because if nothing else the Napoleonic Era destabilized almost everywhere in terms of international politics and the globe."
           His second project is his "passion project"—Meeks wants to write the book on Corsica. Corsica often gets overlooked, he posits, because it does not fit neatly within grander narratives nor does it provide a satisfying answer to the "so what question" that historians fall back on. Meeks wants to address this by stressing the importance of what he calls "disconnected narratives". "There's a lot of history that actually exists in a pretty disconnected, isolated sense," he said. This disconnected history still has a significant story to tell, whether or not it fits neatly into a historical narrative. With this project, Meeks hopes to create a framework for analyzing disconnected narratives that will encourage other historians to lean into isolated incidents in history and approach them as being valid.
Meeks touched on both disconnected narratives and global Napoleonic history in his presentation at the Consortium on the Revolutionary Era. His talk was titled "From San Ildefonso to Manila: Revolutionary War on the Margins". That conference was a homecoming for Meeks and all the other INFR students who celebrated the 50th annual meeting of the Consortium hosted by their alma matter.