Archeology, Graduate School, and the Totonac People – An Interview with Dr. Sam Holley-Kline
---
Archeology, Graduate School, and the Totonac People – An Interview with Dr. Sam Holley-Kline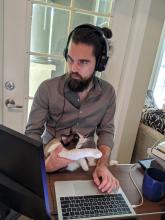 In this new age where we are all facing quarantine and social distancing, Zoom meetings have become one of the most accessible ways of communicating with others. Earlier in the summer, Dr. Sam Holley-Kline sat down in a Zoom interview with Alice Fabela. Dr. Holley-Kline received both his MA and PhD in Anthropology from Stanford University. He is currently a Dean's Post-doctoral Scholar in the Department of History at Florida State University.
Dr. Sam Holley-Kline began his academic career as a Spanish major, and after studying abroad in Xalapa, Mexico, he learned of the Indigenous Totonac people in the state of Veracruz. While he began his study abroad adventure as a tourist, he left it curious about the Totonac peoples. Dr. Holley-Kline saw one making an offering by burning a tree resin called copal and performing a ritual in the archaeological site of El Tajín. This sparked interest in the region and the cultural heritage of the local peoples. Dr. Holley-Kline began to conduct his own research. He applied for a student Fulbright grant to study abroad in Mexico for nine months in El Tajin doing research with the Totonac. After his Fulbright ended, he realized that he needed more time to conduct research and thus he applied to graduate school. His ultimate choice was Stanford University as he found his interests aligned best with their anthropology graduate program.
Dr. Holley-Kline applied to seven graduate programs, all centered on anthropology and archeology, with a project that became "Entangled Archaeology, Labor, and Industry in El Tajín, Mexico, 1880-2018." There were only a few cultural heritage programs in the United States that focused on how to understand the cultural heritage of a group rather than typical archeology or anthropology topics that Dr. Holley-Kline was interested in, as he preferred researching how Totonac people understood their pasts. He felt that Stanford had the best access to the research he wanted to conduct. After his field research, Dr. Holley-Kline also conducted archival research. Many archives in Mexico held lots of primary and secondary sources he used in his dissertation. Putting together the overall research project included juggling a lot of moving parts but ultimately, Dr. Holley-Kline wanted his dissertation to focus on the cultural heritage of the Totonac people rather than a simple geographical or artifact-based history. He wanted to understand the Indigenous past he was researching that had been overlooked in El Tajin.
One unique event that Dr. Holley-Kline mentioned in the interview were the undeveloped photos he found while doing archival research in DeGolyer Library at Southern Methodist University in Dallas, Texas. In 1947, anthropologist Isabel Kelly was conducting her research at El Tajin as part of the Smithsonian Institution's Institute on Social Anthropology. She brought students in El Tajin and as part of keeping records of her research, took hundreds of photographs. These records ended up in the DeGolyer Library. Dr. Holley-Kline received a grant to examine Kelly's papers and discovered the undeveloped film. After having the photos developed, he took them to El Tajin where residents were able to pick out their ancestors. This was a very exciting moment for Dr. Holley-Kline: being able to present pictures of their ancestors to the living descendants. Creating these tangible connections between local people and his research gave him a unique insight into the history of the region.
Sam Holley-Kline has just completed his first year as a post-doctoral fellow in the History Department at FSU. This has included teaching a range of courses at FSU, for instance, Latin American and especially Mexican history, with other courses focusing on cultural heritage and the history of Indigenous peoples in Latin America. Teaching had been a new experience for him, and Dr. Holley-Kline drew on his own student experiences, his graduate school research, as well as the feedback he received from FSU students to find his own teaching style.
Dr. Holley-Kline is enjoying teaching FSU students and collaborating with colleagues as well as building new academic relationships. Currently, his focus is on revising and editing his dissertation, to publish it as a book, with a pending title to come. He presented at a conference with colleagues in June discussing his research moving forward, and is working on side projects during quarantine including an article he wrote that was published by the journal Archaeological Dialogues in June titled "Nationalist archaeology and foreign oil exploration in El Tajín, Mexico, 1935–1940." He is finishing up an article with his friend and colleague Dr. Sabrina Papazian, who is a CIVIC Postdoctoral Associate at Cornell University, titled "Heritage Trekking: Toward an Integrated Heritage Studies Methodology." The article will come out in the Journal of Field Archeology later in the year. He also plays with his cats in his free time, which he certainly enjoys. Most of the time, he has been staying at home with his family and revising his dissertation as well as preparing for remote learning in the fall semester.