50 Years of Consortium on the Revolutionary Era
---
50 Years of Consortium on the Revolutionary Era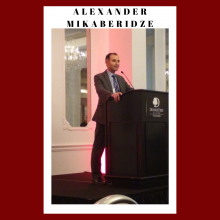 FSU hosted the Consortium on the Revolutionary Era (CRE) February 27th-29th, celebrating the golden anniversary of the history conference. The 50th anniversary began with a reception held at the DoubleTree Tallahassee, where scholars of the Revolutionary era came to meet from across the globe. Friends and colleagues reunited, and emerging scholars had the opportunity to meet other historians in their field. The night culminated with an engaging talk by LSU Shreveport's Alexander Mikaberidze as well as a series of speakers who represented FSU.
FSU's Dr. Rafe Blaufarb, Ben Weider Eminent Scholar in Napoleonic Studies, gave words of welcome to attendees to kick off the conference festivities. He introduced President John Thrasher, who addressed the audience of scholars. Thrasher commented on the success and history of the CRE, as well as the career and legacy of CRE co-founder and former FSU history professor Dr. Donald Horward. Thrasher expressed the merits of studying the Revolutionary era and history more generally, arguing that studying history helps guide us towards a more perfect future.
The keynote address was given by Dr. Alexander Mikaberidze of Louisiana State University-Shreveport. His talk, titled "The Transformation of the World", argued for the importance of a global view of the Napoleonic Wars. Although the wars were largely based in Europe, Mikaberidze showed how they shaped Europe's relationship with the rest of the world. Through the global repercussions of Napoleon's empire, Mikaberidze said that the emperor transformed the history of the western hemisphere.
The opening night reception set the tone for a weekend of engaging presentations and papers from a diverse set of scholars. Select papers from the conference will be published by the Age of Revolutions, an open-access and peer-reviewed online journal