Paul Renfro
Assistant Professor of History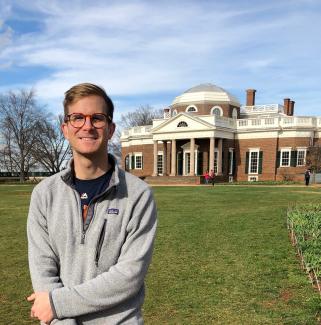 Contact Information
Office Hours
T 8:30–10:30 a.m.; by appointment
Paul Renfro studies the political and cultural history of the United States since 1945, with thematic interests in gender/sexuality, the carceral state, and childhood and the family. His book, Stranger Danger: Family Values, Childhood, and the American Carceral State, was published by Oxford University Press in 2020. Renfro received his PhD in history from the University of Iowa, where he was a Louis Pelzer Dissertation Fellow. Before arriving at Florida State University, he served as a Postdoctoral Fellow in the Center for Presidential History at Southern Methodist University in Dallas.
Renfro is the coeditor—with Susan Eckelmann Berghel (University of Tennessee at Chattanooga) and Sara Fieldston (Seton Hall University)—of Growing Up America: Youth and Politics since 1945, an anthology that considers the significance of childhood and youth in recent American political history. Published by the University of Georgia Press in 2019, Growing Up America includes Renfro's chapter, "Milk Carton Kids: Endangered Childhood and the Carceral State."
Renfro has also published in Enterprise & Society, Southern Cultures, Feminist Studies, American Quarterly, and Disability Studies Quarterly. His popular writing has appeared in TIME, Jacobin, the Washington Post, Boston Review, and Dissent.
Teaching:
Spring 2021
The History of Your Life: The United States since 2000 (AMH 3930)
Mass Incarceration and the Politics of Exclusion: Studies in United States History (AMH 3930)
Fall 2020
LGBTQ History (HIS 3205-1)
Graduate Colloquium: The United States since 1945 (HIS 6934-8)
Spring 2020
A History of the United States since 1877 (AMH 2020-2)
The History of Your Life: The United States since 2000 (AMH 3930-1)
Fall 2019
The United States since 1945 (AMH 4270-1)
Spring 2019
A History of the United States since 1877 (AMH 2020-2)
Mass Incarceration and the Politics of Exclusion: Studies in United States History (AMH 3930-1)
Fall 2018
A History of the United States since 1877 (AMH 2020-3)
Sex since the Sixties: Studies in United States History (AMH 3930-1)
Research Interests
Post-1945 US, Political and Cultural History, Gender/Sexuality, the Carceral State, Childhood and the Family