Want to teach English abroad?
---
Want to teach English abroad?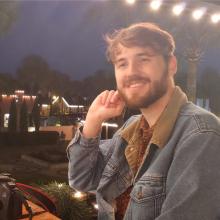 Want to teach English abroad? We asked Russell Rivers, a senior in History, how he got selected to teach English in Korea. Russell will graduate this fall semester and is going to Korea in 2021.
Congratulations. What got you interested in living and working in Korea?
Thank you, I didn't expect this to garner so much attention. I must say I am suffering from a bit of imposter syndrome. Of course, I'm very excited as I've been interested in Korea for a long time. Both of my grandfathers were pilots during the Korean War and growing up I heard many stories of the stunning vistas and kind, hardworking, people of Korea. Throughout my adolescence and adult life, I have loved K-pop music and Korean films. Films from directors like Bong Joon-ho and Lee Chang-dong have opened my eyes to the role of class, the United States, women, and the value placed on a "foreign" education in Korea. In short, what has really draw me to the country over the years is the global phenomenon that is the "Korean Wave" and the idea of being at the center of it.
What did you do to get selected to teach English in Korea?
As far as teaching in Korea goes, there are two routes one can take: route one being EPIK, which places foreign language teachers in the Korean public school system, route two being Hagwons, which are private schools that are often used by Korean students to cram for final exams. The EPIK program, like its counterpart in Japan the JET program, has become increasingly competitive in the past decade. When I was scrolling through the Facebook group for the Spring 2021 EPIK applicants I was quite intimidated as I noticed many applicants had attended Ivy League schools or Oxbridge. In comparison, Hagwons are less selective and typically easier to get a job in. EPIK teachers typically work fewer hours and have working hours that are considered more "normal' in comparison to their Hagwon counterparts. However, all teaching jobs in Korea offer a rent-free studio apartment and the pay is more than enough to live on (usually about $2,000 a month starting salary).
How did you set yourself up to be competitive?
The qualifications to be a foreign language teacher in Korea are relatively straightforward. A bachelor's degree in the liberal arts and a TESOL certification will suffice. A degree in education would not hurt either. EPIK wants its applicants to have a TESOL certificate with at least 100 in person-hours as there are less comprehensive online TESOL certification programs available. I received my 120-hour TESOL certification through the College of Education at FSU and during my time obtaining my certificate, tutored many Korean international students in English. I noticed during my interview how much EPIK appreciated my previous experience tutoring Koreans.
Is the current pandemic an obstacle to your plans?
The situation with COVID in Korea is quite interesting, as they're the only OECD country to have never implemented a nationwide lockdown despite being the first country outside China to report a COVID case. To date, Korea has only 25,000 recorded COVID cases. The Korean CDC has an extensive testing and contract tracing program to which the Korean government accredits its success of containing the virus. Everyone in Korea has to install an app on their smartphone that tracks their location at all times and automatically reports possible infections. Korea has revoked all tourism visas and the only people that are granted entry to the country are those with the various types of work visas, student visas, spousal/ family visas, permanent residents, US armed forces, and Korean citizens. To board a flight to Korea you must have a COVID negative result at least 3 days before boarding and once you arrive in Korea you have to quarantine for 2 weeks at the government quarantine facility at Incheon airport. Of course, masks are mandatory outside one's home in Korea.
What happens next?
Since there are no restrictions on leaving from the US side of the border there is actually a large number of mostly empty and extremely cheap flights to Seoul from US airports. Speaking of paperwork, I won't be officially signed until the Korean Ministry of Education receives an notarized copy of my bachelor's degree.  However, I will find out my placement information and get the go-ahead to obtain a work visa after my temporary documents are received. Right now, I am interacting/ struggling with/ in communication with various governmental agencies. It feels like I'm taking a 5th class this semester.
Will you share your experiences in Korea with us?
Happily. I have a good camera so I might make some vlogs about the life in Korea. There's also a service operated by the Korean version of Google, called Naver, which is sort of like a blog that I might write on as well.