Program in Historical Administration and Public History (HAPH)
What's New in HAPH (follow link)
About our Program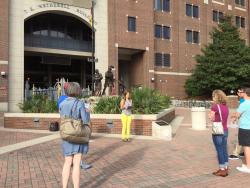 The Historical Administration and Public History program (HAPH) at Florida State University offers graduate students an opportunity to learn best practices in Public History; the collection, preservation, and interpretation of history with and for public audiences. Recognizing that Public Historians need specialized training to be effective in their chosen careers, HAPH blends theory with practice. Students complete a core set of courses in Historical Methods, Public History, Historic Preservation, Archives, and Digital History. An internship experience provides students an opportunity for career exploration. The culmination of a student's experience is a final project (thesis or capstone research project) that demonstrates her/his mastery of the field.
Why Florida State University?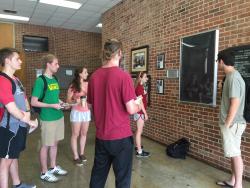 Florida State University's location offers students a unique advantage. Beyond the department's lengthy tradition of scholarly excellence and academic achievement, Florida State is situated in the state capital. Just blocks away from campus, the capitol complex is home to many places that work with history, such as the Museum of Florida History, the State Archives of Florida, the Bureau of Historic Preservation, and the Florida Historic Capitol Museum. Consequently, students have access to numerous historical resources and opportunities at their doorstep.
Student Body Statistics for Admissions Fall 2012 to Fall 2016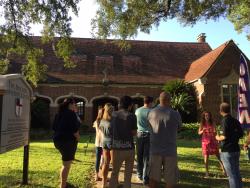 Admitted: 17; Matriculated: 11
Average Undergraduate GPA Admitted: 3.6
Average GRE Admitted: Verbal 76%
Graduated: 3
Current Number of active Students as of Fall 2016: 4
Academic Degree Programs Offered in Public History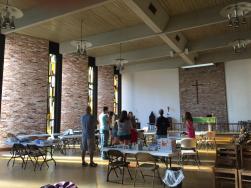 Master's in History with a Major in Public History
Master's in History with a minor in Public History
PhD in History with a minor in Public History
For more specific information, please see the Graduate Handbook
Students Speak: The Internship Experience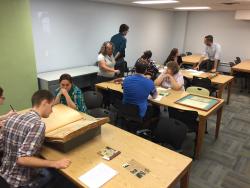 Braeden Belcher:  One of the great things about the Historical Administration and Public History program at FSU is the hands on experience you gain both in the classroom, and through an internship! And there are a lot of great museums in Tallahassee to choose from! My internship was at Mission San Luis, a living history museum in Tallahassee that highlights the 17th century Spanish mission that was located here, and the community that was created between the Spanish settlers and the Apalachee Native Americans. I gained invaluable experience as a living history interpreter and docent, and learned a lot about museum education. I also had the opportunity to develop a participatory visitor guide as part of my internship project.
Matthew Storey:  I served my internship at the State Archives of Florida, working full time.  I think that it was a fantastic experience, and I am sure it will prove to be invaluable when the time comes to find a public history oriented job!  They included me in a lot of what was going on at the archives, and for that I am very thankful; I never felt like I had "busy work" as an intern.  I learned a lot about how a government archive works; a lot more effort goes into collecting and preserving the records than I would have ever thought.  I also had to learn about the materials I was working with, so there was a lot of research to be done.  Figuring out what a given collection meant – who created it, what they used it for, and how they used it – was almost like solving a puzzle; a challenge, but very rewarding too.   I was also involved with outreach activities, by no means was I shut away back in the stacks.  I found the internship perhaps the most exciting when I could interact with patrons; it is your duty to share when you work with history.
Tallahassee: More then a College Town
Visit Tallahassee describes this city as a "place where college town meets cultural center, politics meets performing arts and history meets nature." http://www.visittallahassee.com/. Students will find an impressive variety of restaurants, parks, and other attractions when the time comes to put the books down for a moment. Tallahasseans frequently take in concerts at Cascades Park, enjoy time shopping and dining in the midtown district, playing pinball, rock climbing, and exploring art galleries in Railroad Square, and taking a leisurely cruise down the area's beautiful oak-line canopy roads. While pursuing an advanced degree, our students find that Tallahassee is a lovely place to live, too.
Where are our Graduates who finished in the last 10 years?
In government:
Archivist, State of Florida, Tallahassee, FL
Programs Assistant, Museum San Luis Living History Museum, Tallahassee, FL
Administrative Assistant, Division of Library and Information Services, State of Florida, Tallahassee, FL
Historic Preservation Grants Specialist, Florida Bureau of Historic Preservation, Tallahassee, FL
City Records Division Manager at City of St. Charles, Illinois
Director, Florida Historic Capitol Museum, Tallahassee, FL
In education
Associate Director of Development & Campaign Coordinator, Parish Episcopal School, Dallas, Texas
Social Studies teacher, Houston, TX
History & Political Science Librarian, University of Connecticut, Storrs, CT
In the private sector:
Museum Educator, Kentucky Historical Society, Frankfort, KY
Education Director, Old Davie School Historical Museum, Davie, FL
Program Coordinator, American Airlines C.R. Smith Museum, Fort Worth, TX
Curatorial Specialist, The Holocaust Museum & Education Center of South West Florida, Naples, FL
Volunteer and Membership Coordinator, Pasadena Heritage, Pasadena, CA
Program Coordinator, Tallahassee Trust for Historic Preservation, Tallahassee, FL
Archivist at Defense POW/MIA Accounting Agency, Hawaii
Student Capstone Projects:
While HAPH students have the option of writing a traditional master's thesis on a topic of their choosing, many opt to complete a capstone project instead.  This project is an opportunity for the student to build hands on experience as a public historian, and create a permanent resource for others to use.  The exact structure and format of the capstone project is to be determined by the individual student and the HAPH director.
Sample Student Capstone Projects:
Tyeler McLean, "Researching Florida State Parks: Finding Aid for Historical Materials at the State Archives of Florida"
Rebecca Woofter, "Creating Tribes in Florida: How Autonomous Camps became the Seminole and Miccosukee Tribes"
Brandi Burns: "Although He Sleeps": A Study of Old City Cemetery and St. John's Episcopal Cemetery in Tallahassee, Florida.
Monica Davenport, "Student Unrest at Florida State: 1968 to 1972"
Corie Smith: "Jefferson County in Memory"
Lauren Giffin: "Ladies, Welcome to the Southwest Conference"
Julie Sawnor: National Register of Historic Places nomination for the Jefferson County Jail
HAPH Projects
In addition to their individual research and projects, HAPH students frequently work as a group with community partners to make Tallahassee's local history more accessible to the public.
Responding to a tremendous growth in population between 1910 and 1940, Tallahassee/Leon County constructed a new set of structures to house public services.  This website highlights those buildings the city and county hoped would create efficiency and evoke modernity: (from left to right, first row) the Leon County jail, the Caroline Brevard School, the city's power and light electric building; (from left to right, second row), and  the Leon County Health Unit, the annex to the Leon County Court House, the  city water works. The site discusses the mingling of history and architecture to learn how Tallahasseeans experienced and expressed a new modern age.Tallahassee Moderne was sponsored by the Tallahassee Trust for Historic Preservation, The Florida Heritage Foundation, and the Historical Administration and Public History Program of the History Department at Florida State University. The website was created with the aid of graduate students from the History Department at Florida State University: Amy Drewel Coale, James R. McAllister, Sarah Patterson, Kent Peacock, and Allyson Stanton, and  College of Education graduate student Sally R. Watkins. Several are enrolled in the History Department's Historical Administration and Public History Program run by Prof. Jennifer Koslow.
The National Park Service established the Historic American Landscapes Survey (HALS) program to provide a process for the systematic documentation of historic American landscapes. A HALS records historic landscapes in the United States through measured and interpretive drawings, written histories, and large-format black and white photographs and color photographs. The National park Service provides professional guidance on preparing a HALS and, if accepted, the HALS is preserved in the Library of Congress for posterity and to provide access to the general public.
 
From the 1890s to the 1960s, Smokey Hollow was home to working-class and middle-class African Americans in Tallahassee. Florida's state government removed houses, stores, and churches to make-way for post-World War II urban renewal projects. As part of a twenty-first century project to redevelop the area, a project titled the New Cascades Park, the city of Tallahassee will tell the story of Smokey Hollow through spirit houses, interpretive signs, and a HALS. Formal historical documentation provides the crucial foundation for commemoration.
Students from Florida State University aided in the archival research for this project and conducted oral histories with former residents. Dr. Koslow worked with Dr. Anthony Dixon to write the historical narrative for the project. NPS accepted the HALS in 2015.
Meridian Road is nominated to the National Register for significance on the local level under criterion A in the area of Transportation. Meridian Road is associated with the growth and development of Leon County, Florida, which for a time in the nineteenth century and into the early twentieth, was the center of cotton production in the state. The road served as one of the major local conduits to move agricultural products from the county's plantations and farms to market in the capital city of Tallahassee and to shipping points on the Gulf of Mexico. In 1824, as a new territory of the United States, a Prime Meridian Marker was placed at the southeast corner of Tallahassee, from which all land surveys in Florida derive their origin. Originating at the Meridian Marker, Benjamin Clements surveyed the longitudinal north/south Meridian Road in 1824. This was one of the first roads surveyed in Florida. This major thoroughfare continues to connect the rural areas of Leon County to the City of Tallahassee. Public History students from Florida State University's History Department helped research this nomination. NPS accepted the nomination in 2013.
U.S. District Court, Northern District of Florida Court Project
Dates: August 2007-June 2010
Relying on in-depth archival research and oral histories, this project resulted in a comprehensive history of the U.S. District Court, Northern District of Florida and its judical officers. Funded by the Northern District of Florida Bench and Bar Advisory Committee ($149,999.58)
Graduate students in the Spring of 2008 investigated the relationship between memory and history, concluding that the physical structures we inhabit on campus-our classrooms, our spaces of leisure, or living quarters-link us with our past. They researched the areas both on and off campus they believe will be impacted by FSU's Master Plan with an eye towards identifying those structures that foster a sense of place. This downloadable PDF is their research product.
Created by the students of the Introduction to Public History class in the fall of 2006, this web site provides different avenues for investigating the history of Florida State University. The site includes downloadable walking tours, a guide to the various monuments on campus, and an annotated timeline.